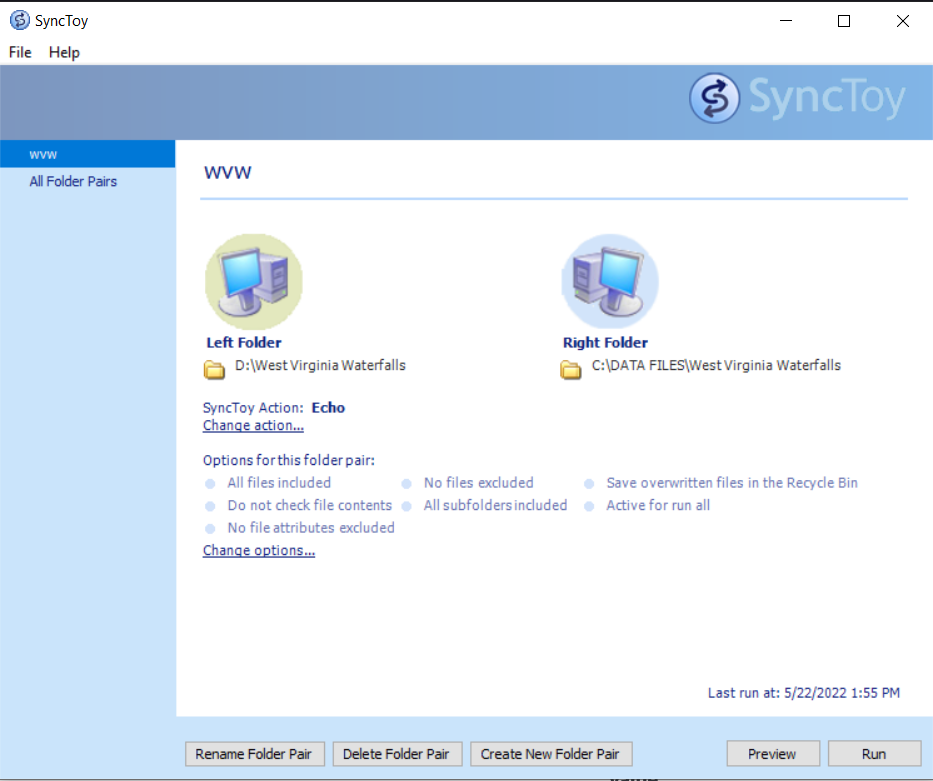 I've always used Synctoy from Microsoft. In my estimation, it's one of the few favors MS has ever done for me as it is the simplest program I have ever found to make backups. However, they quit offering it and quit supporting it, so it's pretty hard to find and when you do it's liable to be from a rather iffy looking site. Anyway, it also requires .NET Framework 2.???? and that is also kind of difficult to get a hold of and if you go looking for the "specific" edition that is specified when you try to install in Windows 10, you probably won't find it. At any rate, what I ended up loading was probably more like 2.0 something plus an upgrade to 3.5 and it worked fine. I understand you might also be able to enable this version of .NET through the control panel under Windows Features/Turn Windows Features On or Off. .NET 2.0 & 3.0 should be first in the list.
I had to go and look for this several times and this last time, after I uninstalled Windows 11, I decided that I should look closer to home. Low and behold, there it was hiding in one of my archives. So, for you, if you want it, just download it here and make sure and save a copy somewhere for the next time you need it. Hopefully, it will continue to run on future versions of Windows as well.
SyncToySetupPackage_v21_x64.exe
Here's some recently acquired news. Apparently, it's possible, even with WIN 11, to go to Control Panel, Programs, Programs and Features, Turn Windows features on or off, click on the top (on my computer) selection ".NET Framework 3.5 (includes .NET 2.0 and 3.0)". After that installs, run the Synctoy 2.1 installer and you're done. I can't believe it was that easy and good old Microsoft doesn't make the first mention of it as far as I can tell. Had to go to an open source forum to get this information, though, I'm sure it's probably available somewhere else as well.