We began our tour of the UP in St. Ignace, Michigan. It was a good place to start by seeing the Mackinac Bridge and several lighthouses on the eastern end of the peninsula. So, Tahquamenon Falls (above) would be the first stop for waterfalls, being the most easterly location on our list.
I bought the book "Waterfalls of Michigan" by Greg Kretovic, which proved to be a good resource for directions and locations. If I had any one criticism of this guide, it would be that there is no alphabetical index. Waterfalls are listed by regions and are not in any perceivable order within their category, so looking things up is sometimes time consuming.
We tried to plan our waterfall visits according to our lodging locations, they being Newberry, Munising, and Chassel. Most days were filled with a lot of driving and if you've never been to the UP, a lot of the secondary and county roads are unpaved. Most of them are remarkably smooth, but you need to be careful or you might break something.
A lot of the waterfall locations in the UP are quite manicured and civilized. Most have viewing platforms and well defined trails. With this in mind, it should be no surprise to you that they want some money. A pass is required to park/visit many of the falls. If you are going to be around for more than a day, I suggest you pick up a pass at Tahquamenon, as it's one of the few attended places that we visited. You can get some info here. You can look here for information about getting a park pass. I think you can order online.
I highly recommend the hike down river for a view of the falls from afar. Bring your telephoto/zoom lens for some nice shots through the trees from the trail. It's really the best view of the falls anyway.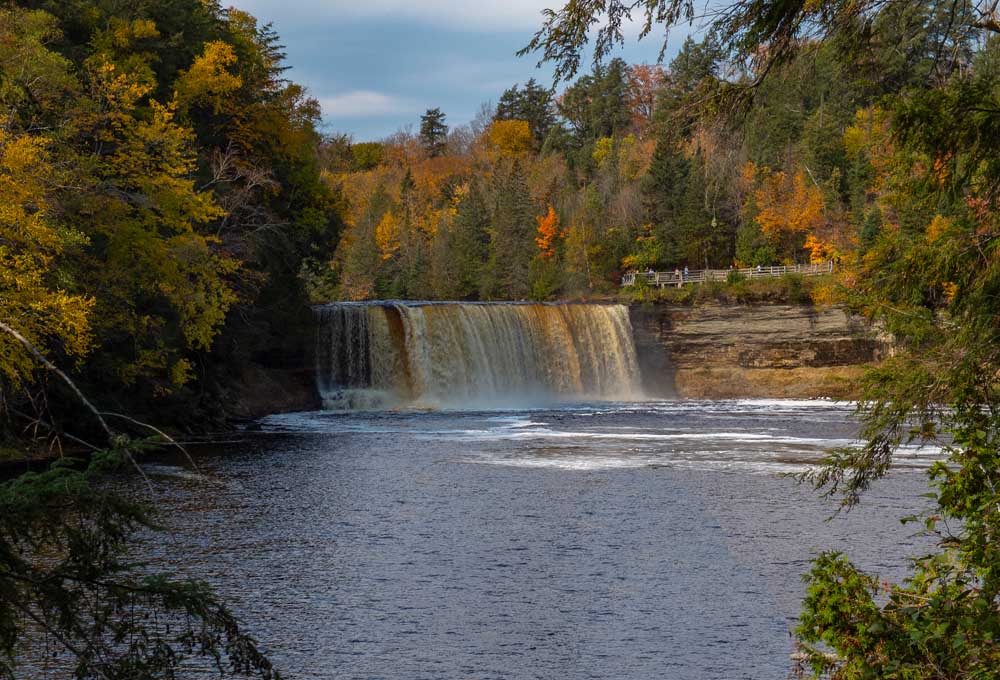 One place with fowl roads in particular is Rock River Falls, which requires an almost 5 mile drive into the Hiawatha National Forest on some rather sketchy surfaces. You'll come to places in the road that resemble fishing ponds in wet weather. But the drive and the mile or so walk to the falls is worth it.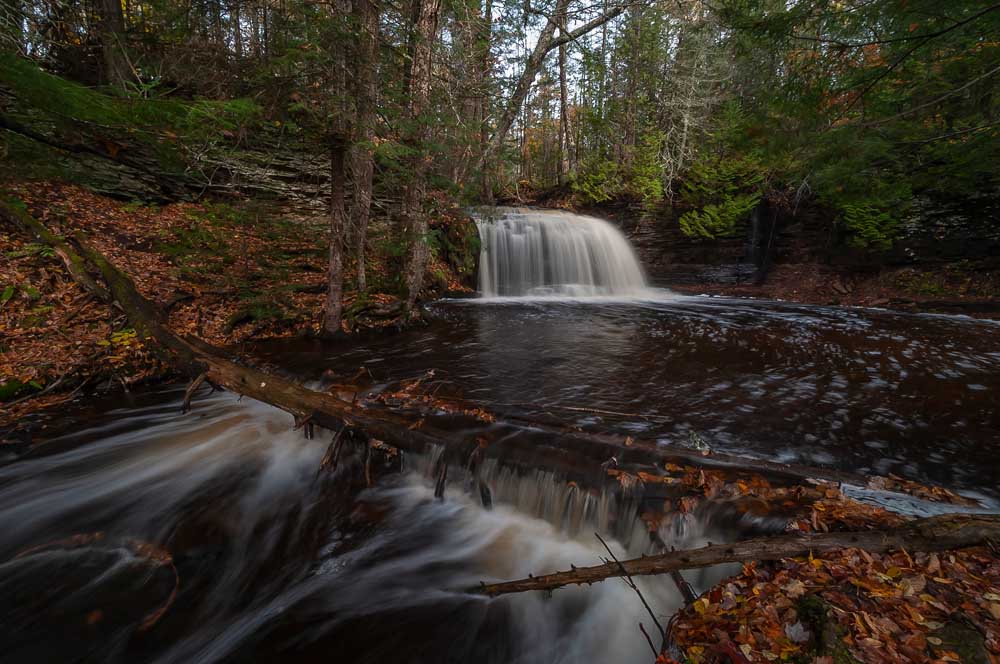 I think one of my favorite stops was Sable Falls. Very pretty and easy to get to. It's a short hike with 169 stairs, viewing decks and access to the lake shore where you can get some awesome landscape shots of the shoreline cliffs and dunes looking west.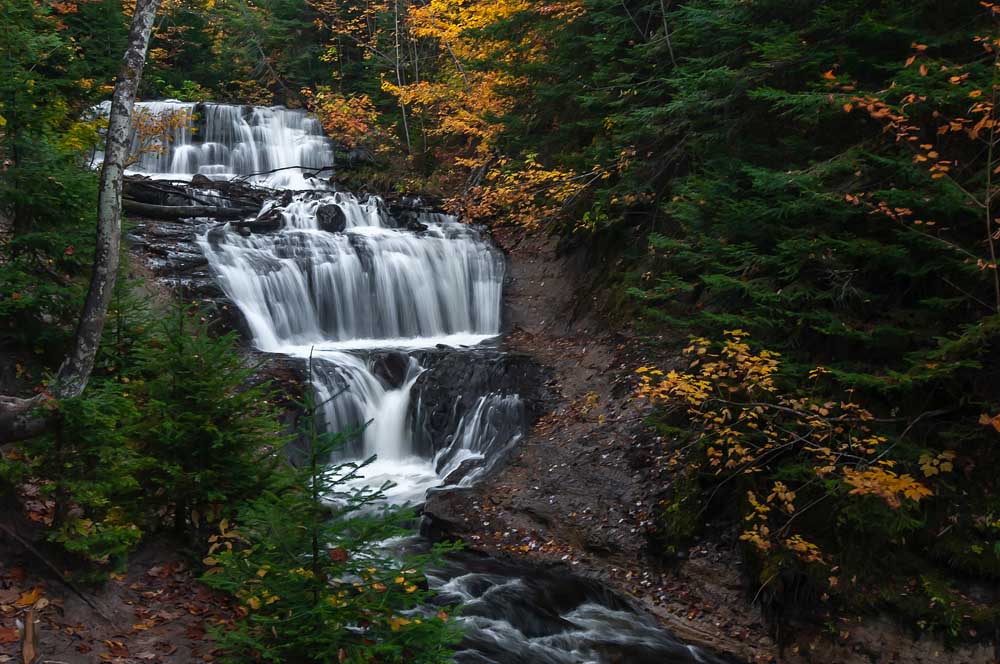 You might have to ford the creek at the bottom to get on the beach for a good shot up the coast and a view of the Log Slide and Au Sable Lighthouse off in the distance where the land juts out into the lake.
Another cool waterfall was Laughing Whitefish Falls. I didn't hold much anticipation for visiting this place due to the images I had seen and the fact that it is mostly a slide and not much of a plunge. However, it was most impressive and there is a 15′ drop at the top. I'm sure the recent rain had much to do with it, but then, that's the best time to visit a waterfall. Not disappointed in the least.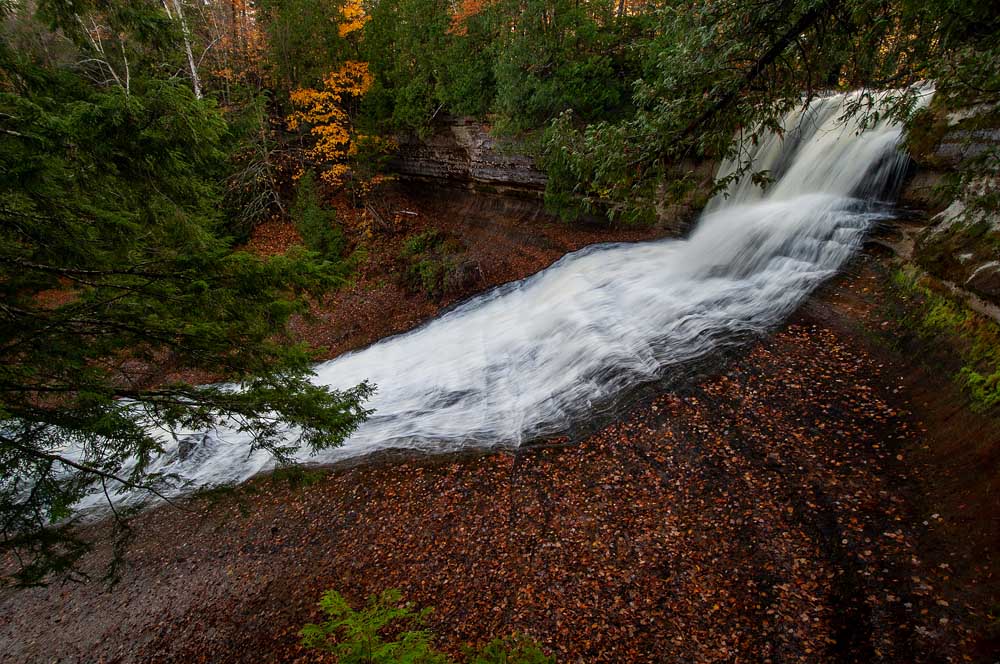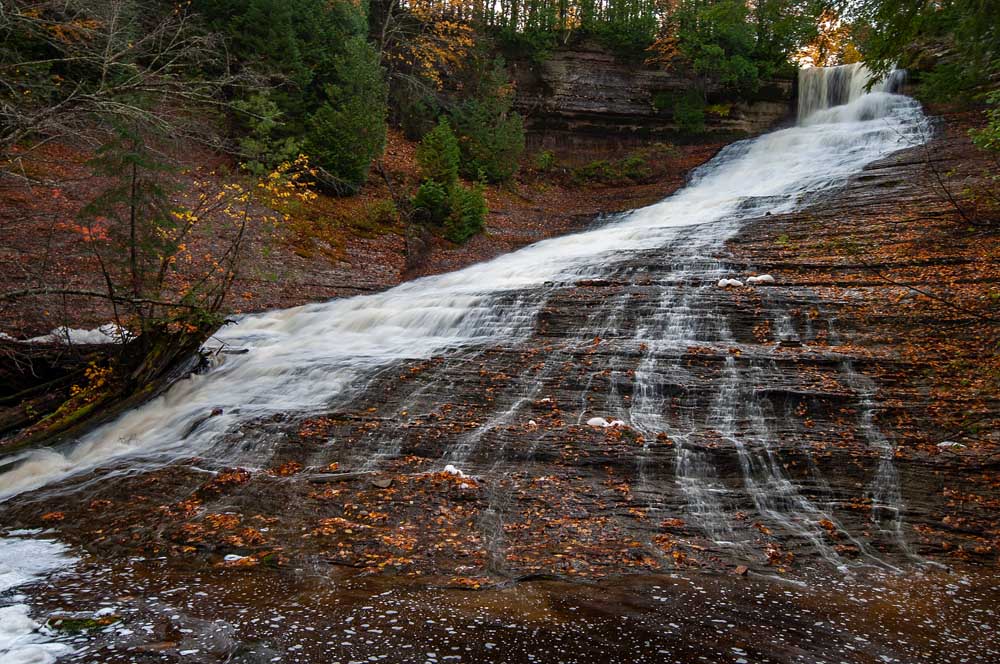 Eagle River Falls was an unexpected find. We had been to the end of the Keweenaw Peninsula to see the Copper Harbor light, which we found out is only visible from across an inlet. On the way back we hit several other lighthouses and waterfalls on the Keweenaw Peninsula. Here they are in not particular order, with Eagle River leading off. All are basically roadside.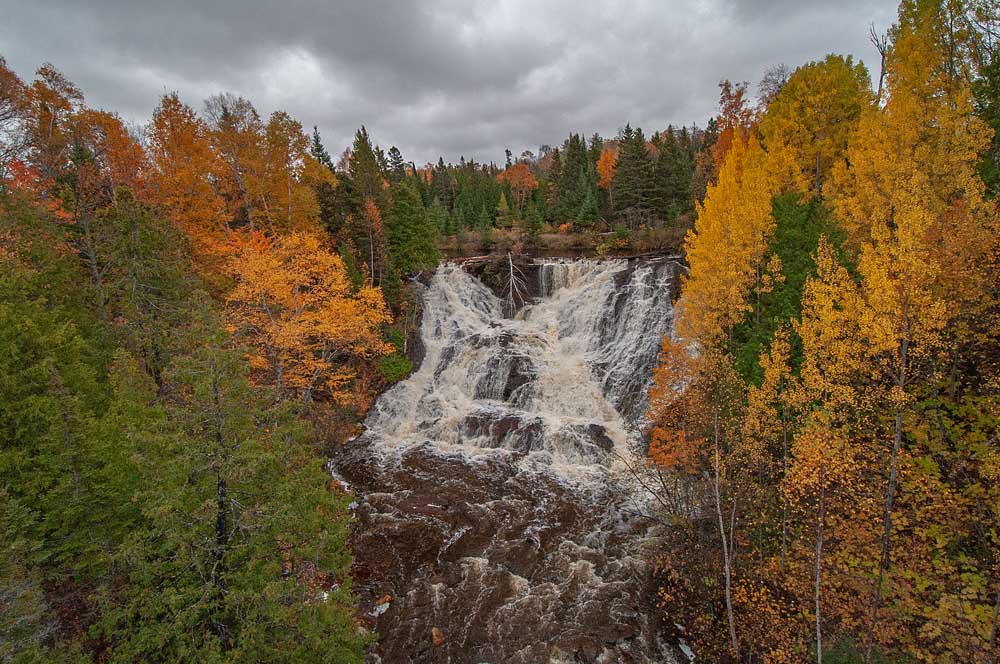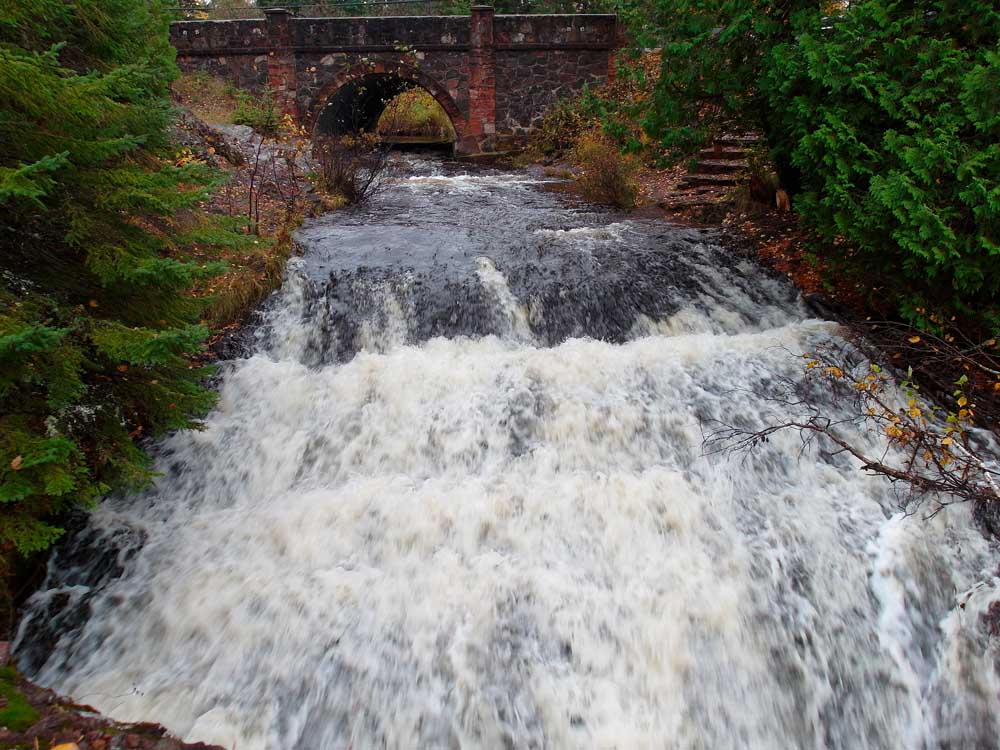 Another impressive waterfall was Bond Falls. Another of the well manicured, it hosts a nice set of stairs, boardwalk, and viewing platforms with a couple of places to exit onto the river bed.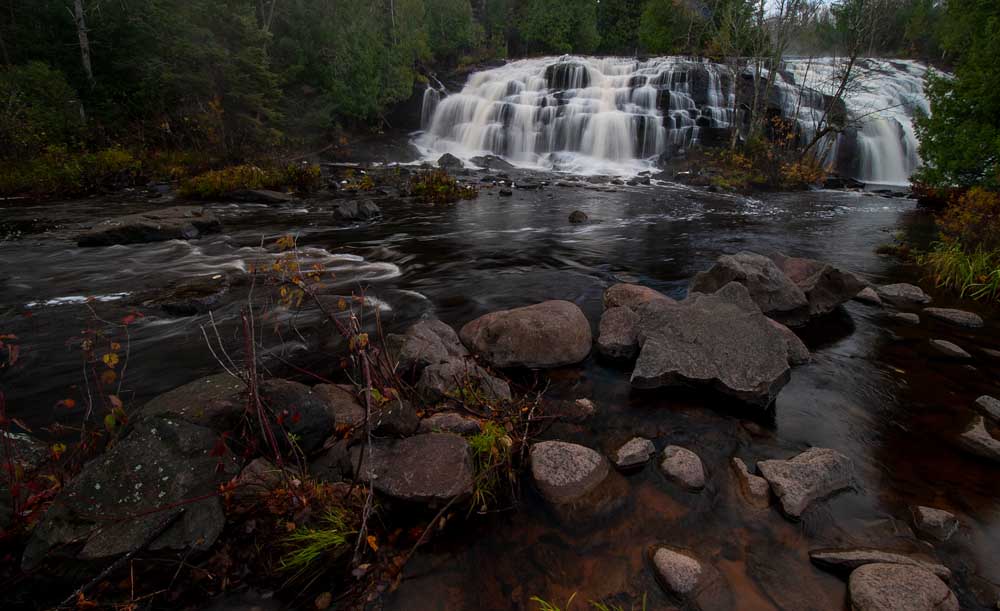 I particularly liked this small waterfall called Ogemaw. Not far from the road and easy to get to, it is one of the more idyllic locations that we saw. Isolated, clean, peaceful and quiet.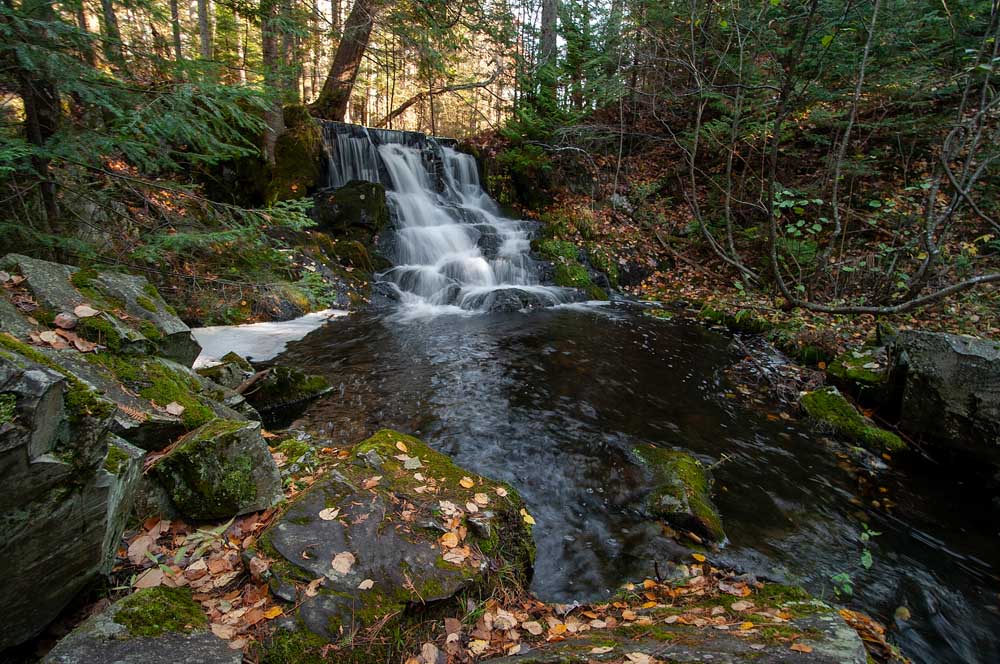 Here are the rest of the falls we visited.
One last place that I really liked was Leatherby Falls. Out of the way and unique, it consisted of three falls that I saw, and several more downstream which I was unable to get to, due to pulling a muscle in my calf. I was lucky to walk out of there on my own.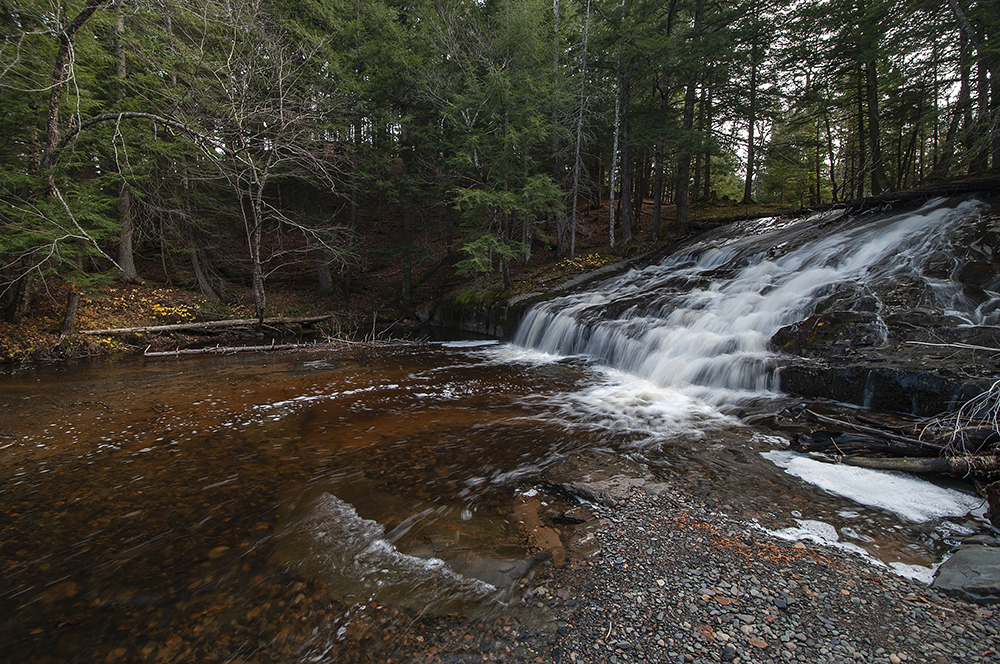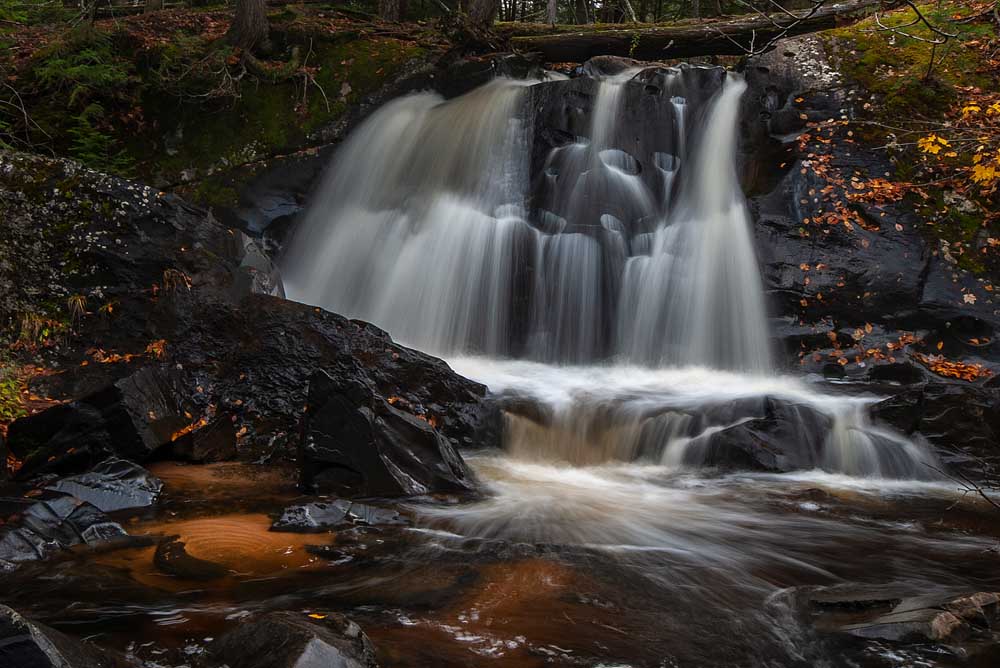 There was a lot more to see, but time runs short and it was time to head home. Regrets include the Black River corridor on the Black River National Forest Scenic Byway. Maybe next time.