I've been pretty busy this spring and hoping to finish up a couple more projects soon so that I can get working on my own home projects that need to be finished. Meanwhile, the pay work has to get done.
This reception desk is for a new salon and day spa located in West Chester. Can't believe how big "Deluxe Salon and Day Spa" is and the different services they offer. Wonder if they do mani-pedis on old farts like me. LOL That and a hair cut would get me back in shape after all this Covid shutdown crap.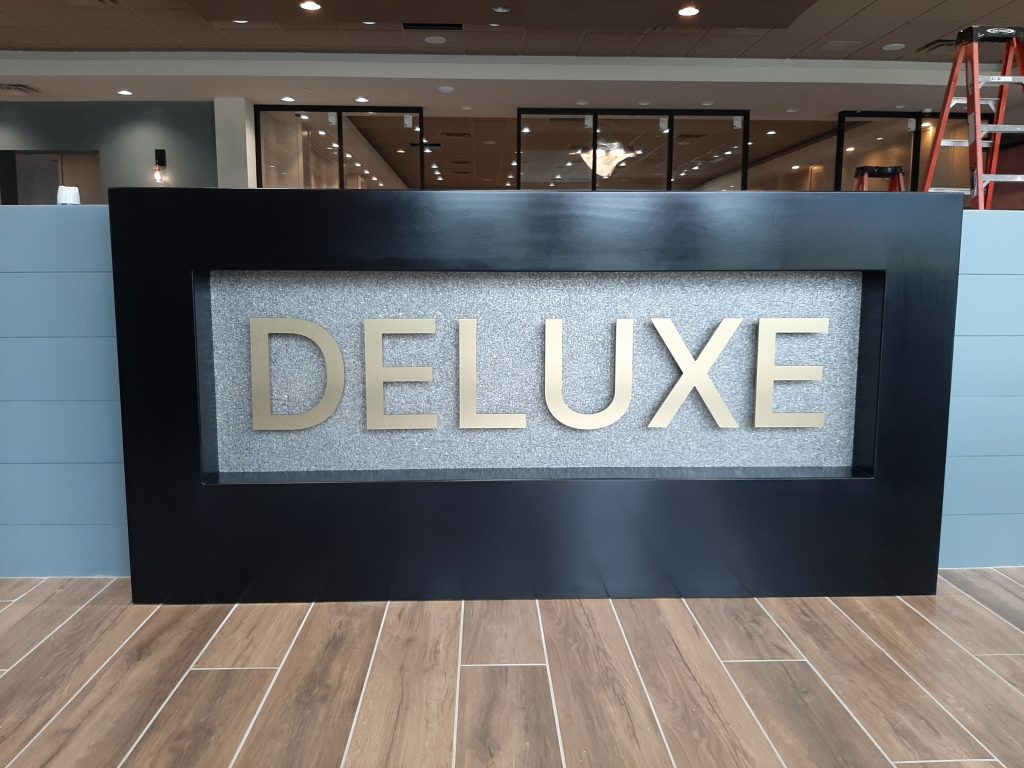 A mud room. Store bought cabinets that were pretty cheap and well built. I didn't know that Hampton Bay (I've bought lots of their ceiling fans) made cabinets. These cabinets were pretty nice for the cost and made of plywood instead of particle board and with finished end panels. The drawer guides were simple and basic, but the price was really right and the construction was good.
Upper and lower storage fabricated by me from 3/4″ cabinet grade plywood. Wormy Red Oak counter top and bench seat, stained and finished.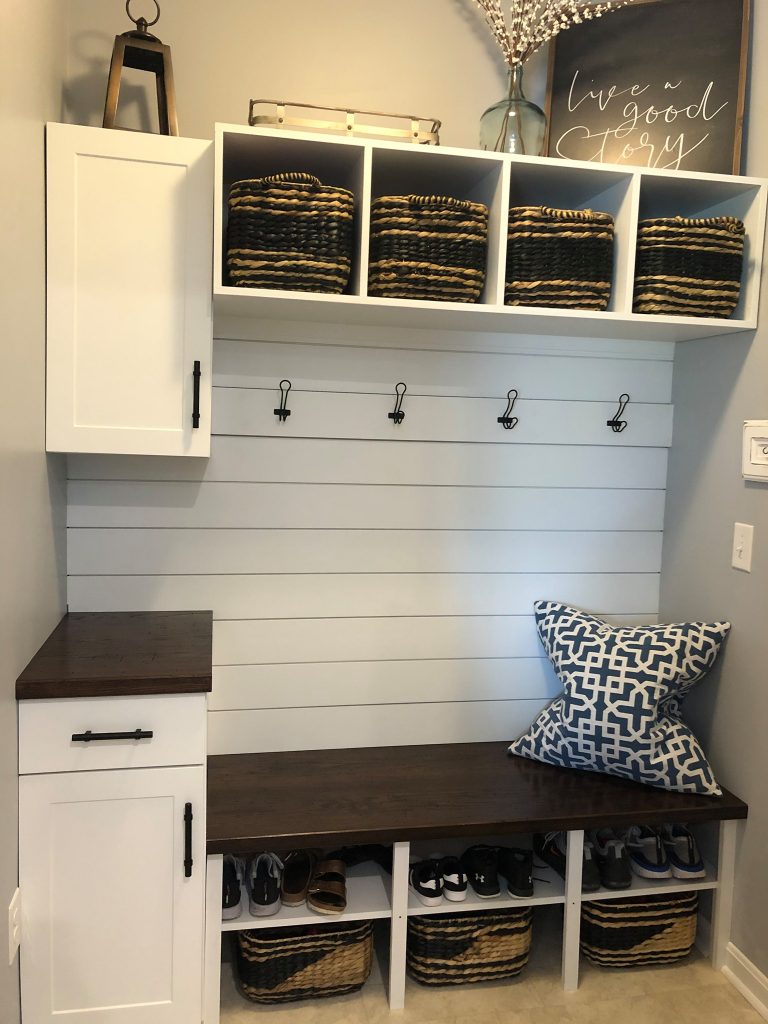 Before Covid, I was asked to construct some steps to go out of a back door onto a back porch slab. I decided to build it in the shop, which was a better deal for the customer because of the precision of cuts and assembly, but it was a pain to transport and move around and it ended up being in the shop for way too long, as I couldn't get permission or help to move it to the job.
I pre-cut all the Ipe decking and installed it on the job after the framing was set in place. Here's how it all looked in the shop.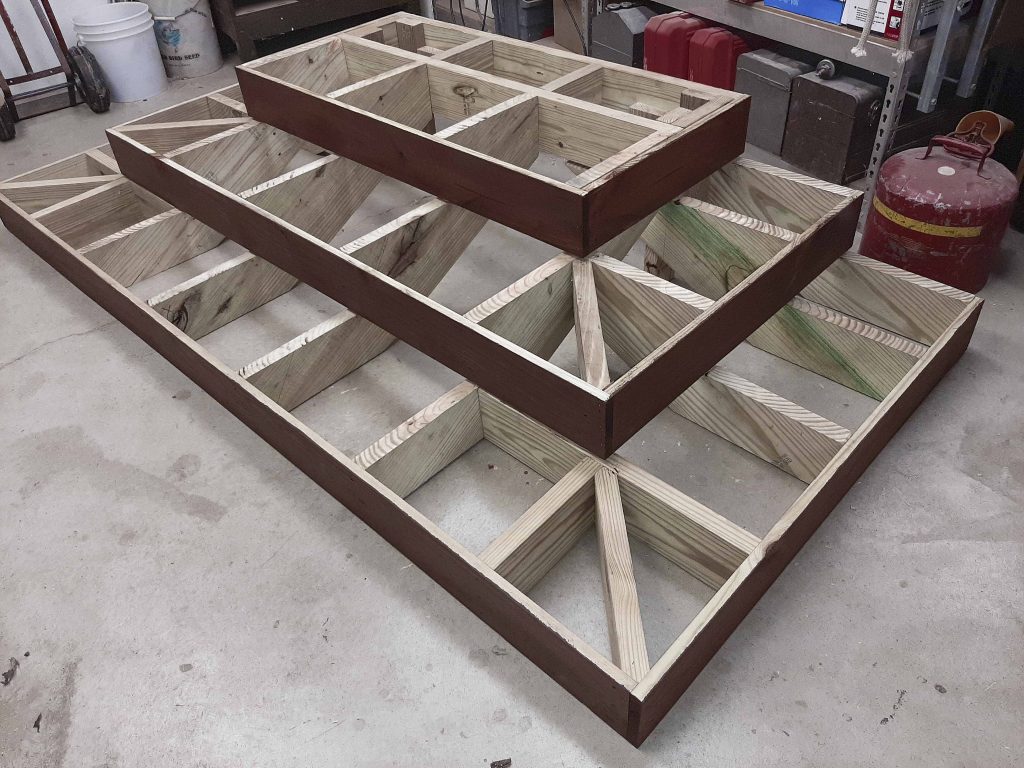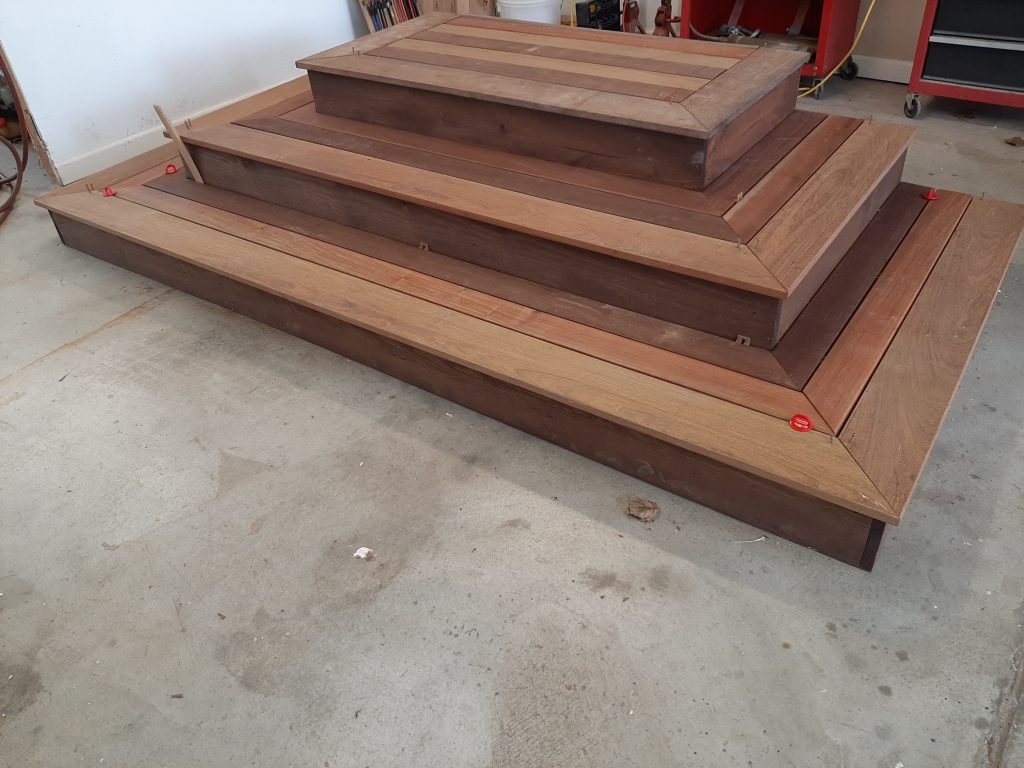 Some steps for entering the house from the garage.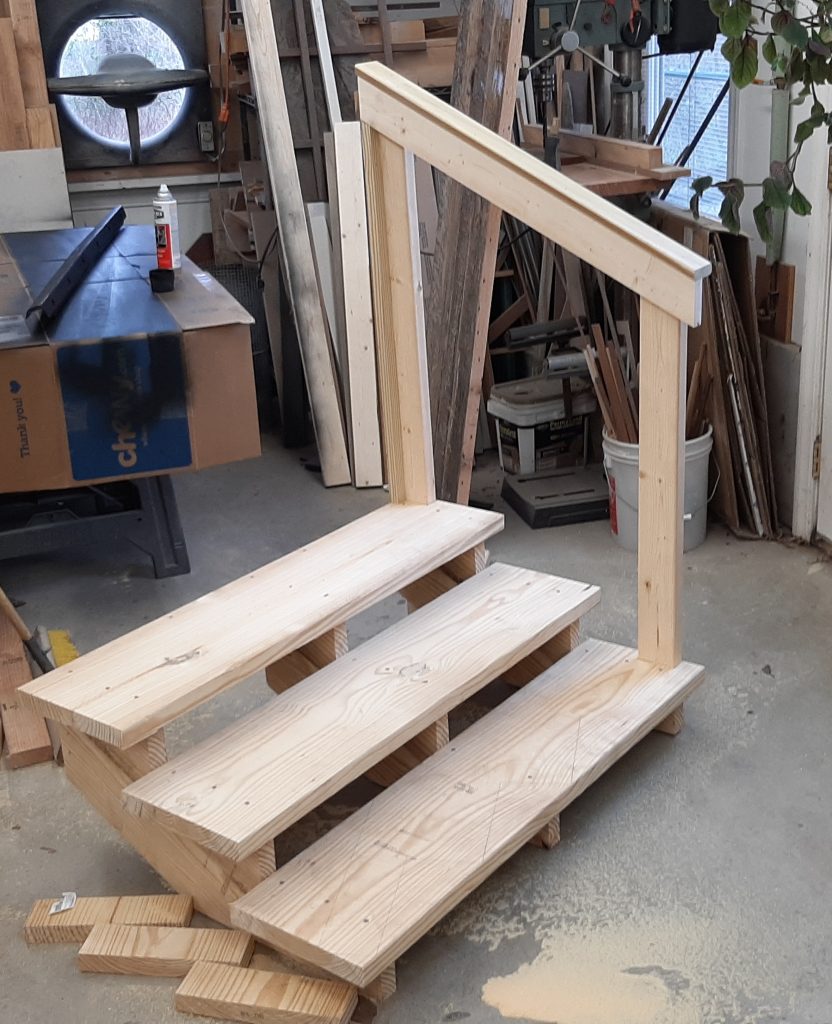 Part of another job. This storm door was absolutely ready for the trash. If it hadn't been so costly to replace, I would have suggested that they dispose of it, however, replacing an arch top storm door is really expensive. Because it would need to be custom made, due to it's odd size, I decided to repair the door. I'm not going to go into how messed up it was, but I pulled a stapled in screen, repaired the rabbet with bondo and epoxy fillers to rehab the nasty and abused wood surfaces, recut the routered edge on the outside, fabricated retention moldings for glass on the inside, made a template and ordered tempered glass to create a permanent glass panel. I wanted to do replaceable screen and glass panels, but it was like pulling teeth from a tiger, trying to find someone who would take that project on. I polished the hardware and put some preliminary coats of paint before returning it to the contractor that hired me.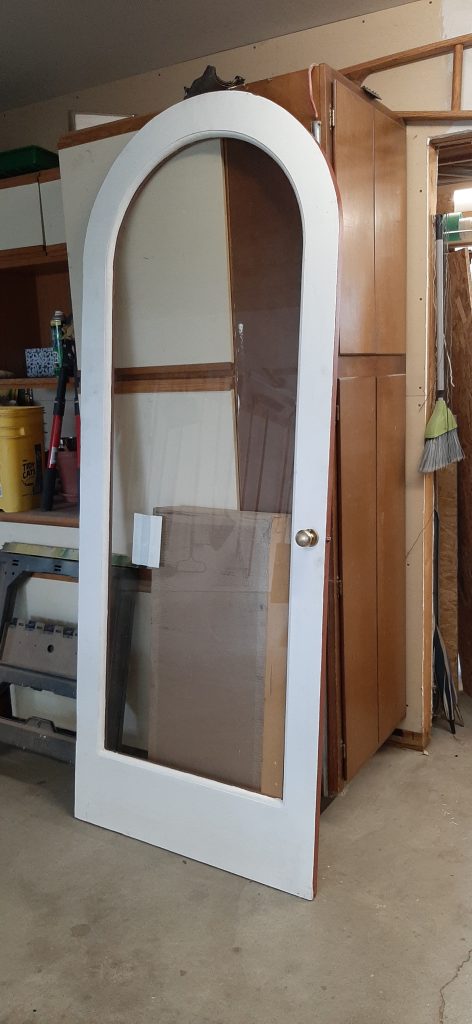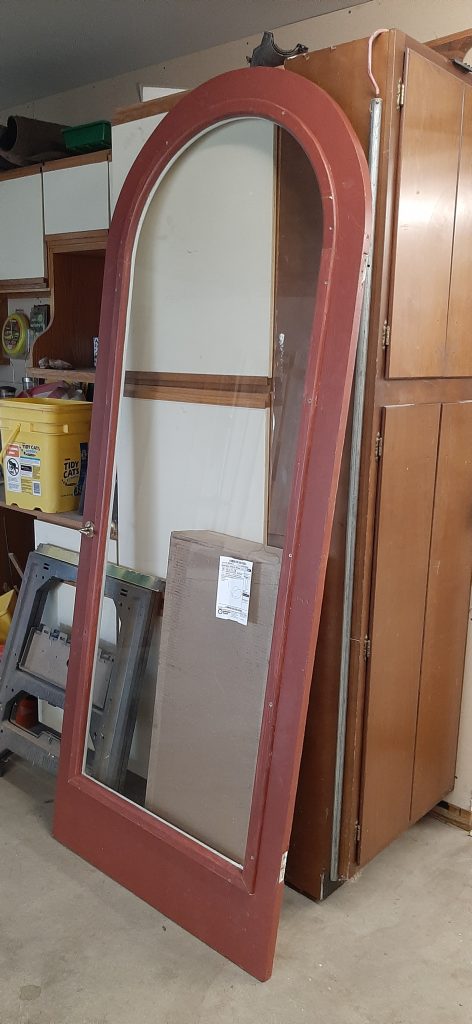 The other part of the job was to recreate rake boards for the house that this door belongs to. Not normally a problem but these were curved and also, what I had to copy from was mostly rotten, so determining the exact curves was a bit of a challenge, but getting clean cuts in the curves was way worse, especially on the moldings. The edges of the blanks for the moldings had to be precise in order to get a good cut on the face. I had to farm out the moldings to Flottemesch to do the actual milling of the moldings, but I had to make the blanks for them and that took a long time to get right.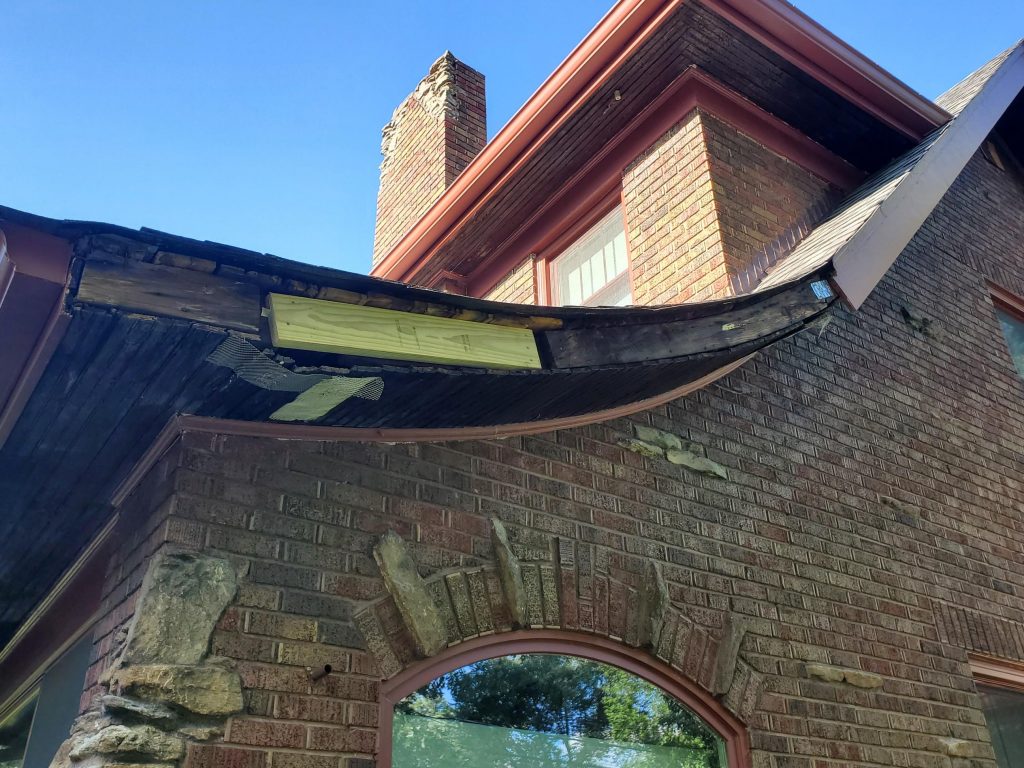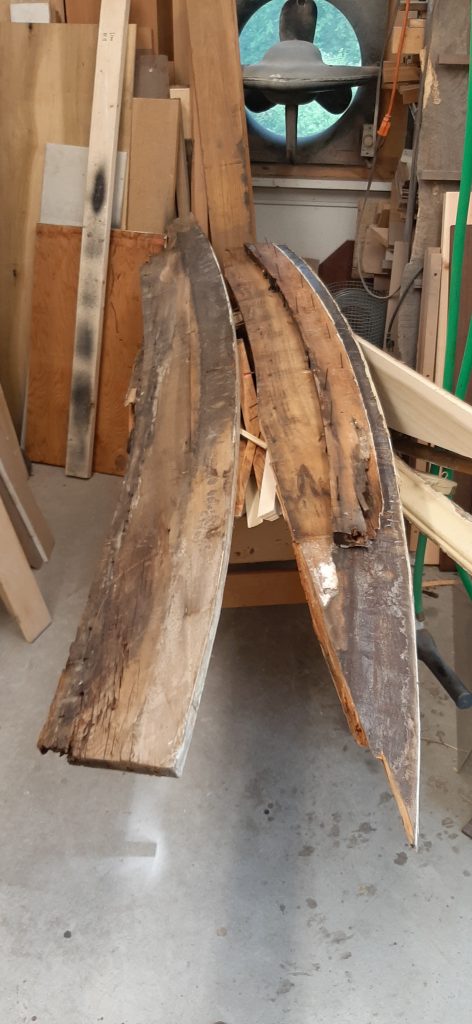 Still awaiting photos of finished product after installation. Hope their carpenter had an easy time installing. I tried to make it easy on him.
Anne Hoffman was kind enough to help me with the transport and installation of both of the Deluxe Salon reception desks. We put the second one in this past Friday. Thanks for the help Anne.